Wook doing things
---
Photos © Wookey & Tess Jones (except the last two which are Andy Atkinson)
I'm an outdoorsy sort of person, and generally spend my holidays doing active things. Here's a few examples. >
Skiing
| | |
| --- | --- |
| | |
| Snowboarding in Alpe d'huez 1994. Not bad for my first day :-) | Off for a day off-pisting - this is what it's all about. |
Canyonning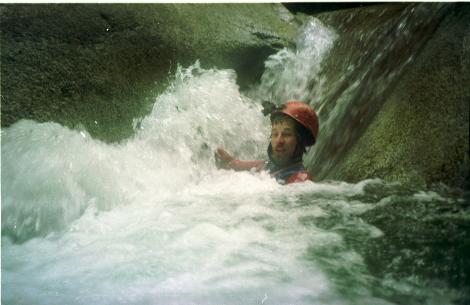 Canyonning is an excellent game - it's like caving with all the miserable bits taken out. I seem to be getting rather wet here (Somewhere in the French Pyrenees)
Walking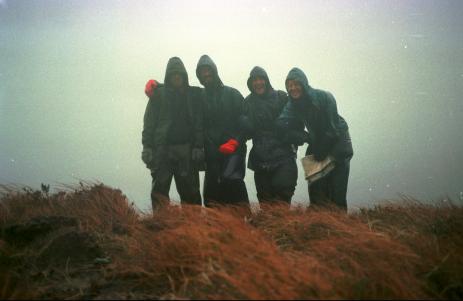 Some very damp walkers - Scotland always has such lovely weather at new year. I'm the one on the left! The others are (from L) Clive George, Julian Todd and Tess.
Climbing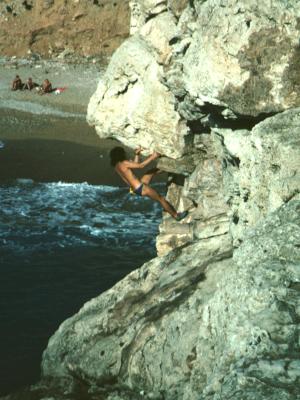 A very nice afternoon's bouldering in December in Majorca a few years back.
Caving
Playing with our new power drill underground in Austria.
In the further reaches of Kaninchenhöhle, some 4 hours slog from the entrance. This is 'the bridge', a rather unlikely rock that gets you across a big hole in the floor.
This is what Austrian caving tends to be like - very brown, with a lot of rocks in it. I'm heading for the tantalising black space in the top left hand corner. This bit is called 'bugger' because we had stormed down the passage to be faced with this rather imposing climb, putting an end to that year's exploration. [To be fair to the oringinal explorers I should point out that this photo is a reconstruction - Dave Fearon did the original ascent].